In September 2022 news broke that Google is shutting down Stadia, their cloud-gaming service. After making the official announcement, Google immediately closed the Stadia store and stopped all in-game transactions. Players will lose access to the almost 300 games available on Stadia in mid-January 2023.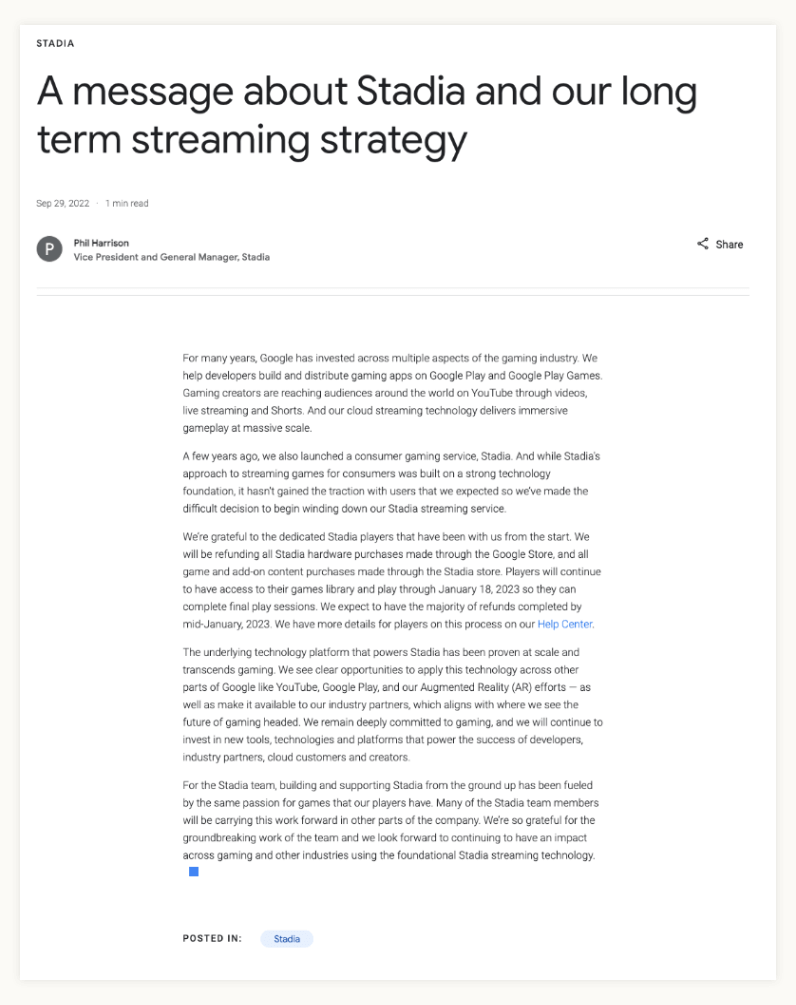 Phil Harrison's (GM of Stadia) message to the gaming community.
The good news is that Google will refund players for games and any add-on content they've bought, as well as hardware like the Stadia controller. That doesn't help developers though, many of whom had no idea that the shutdown was coming. Lots have ploughed huge amounts of time and money into upcoming and existing games on the platform, and will have been counting on future revenue from it. The demise of Stadia is even more of a pain because of the extra people-hours many devs have spent porting their games to its technology, and getting through Google's stringent certification process.
It's not just the smaller publishers who've been blindsided by the closure either. Big names like Io Interactive, CD Projekt Red and Ubisoft have also had the rug pulled out from under them – in fact, Ubisoft have 38 games available on Stadia that they'll now have to find a new home for.
And of course there's the players. Players who've spent hundreds of hours on their favorite games on Stadia and now can't transfer their game progression, unlocks or other content to another platform.
What went wrong?
In hindsight, there were some signs that Stadia was struggling. For example, Google closed their internal game development studio in February 2021, saying they'd be focusing on games built by third-party developers in future.
The official statement on Stadia's closure says it "hasn't gained the traction with users that [Google] expected" in the three years since it launched. Which is a nice way of saying it didn't have enough players to compete with more traditional types of gaming.
This isn't the first time a tech giant has made a decision that's had a massive impact on game devs. Like when Apple made sweeping changes to their IDFA, or when they decided to remove "outdated" apps from the App Store. Or when Facebook changed the ways games access friends' lists. Or when Steam added game refunds that unfairly penalized short games. So why is the loss of Stadia causing such a panic in our industry? Well, it's because platforms like this wield enormous amounts of control over developers and players. And it's having a hugely detrimental effect on gaming as a whole.
An unhealthy monopoly
Third-party platforms are essentially walled gardens which make vast amounts of money from the content that devs put on there. They own the player profiles and the actual distribution processes (i.e. the way the games get from the platform to the players). That means game developers are at the mercy of how each platform chooses to do business.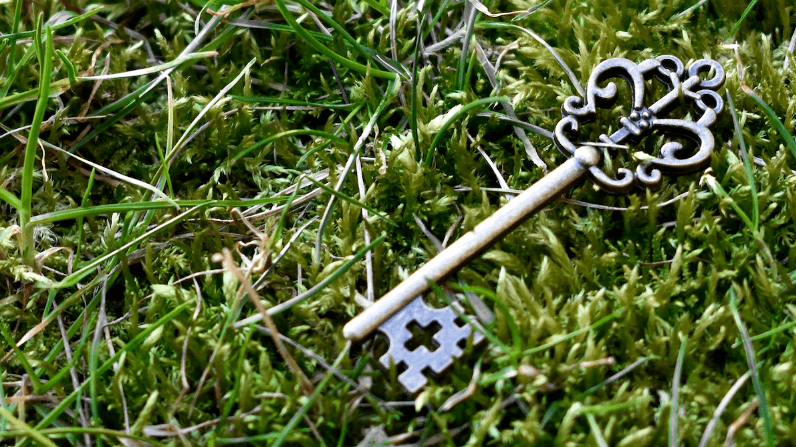 The owners of the keys to the walled gardens are the ones who truly profit off your work.
There are also often conflicts of interest. First, the platform owner is usually shipping their own games too. And secondly, they're often also selling the devices players are using to play them, meaning they can limit customers to their own marketplace. Because of this Apple is already the biggest games company in the world, raking in more money than many of its competitors combined.
Other big companies which don't own their own platforms are feeling the pain too. Businesses like Netflix, Spotify, Microsoft and Roblox are being forced to give up a massive 30% of their revenue and often create worse user experiences just to get themselves on a particular device or marketplace. (Although it looks like Microsoft are taking matters into their own hands by trying to create a mobile store to rival Apple and Google.)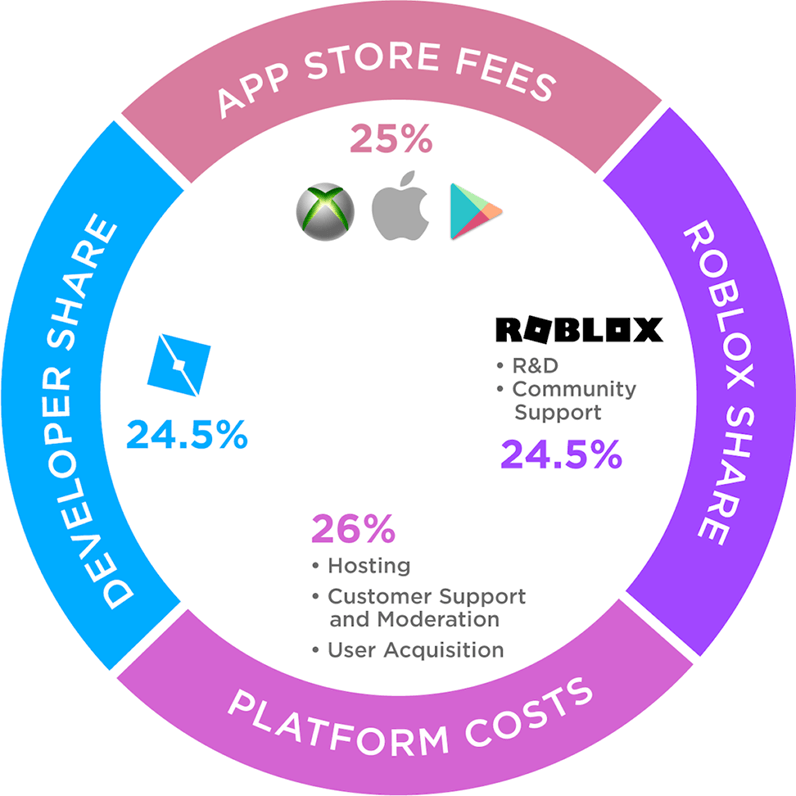 Games like Roblox give away nearly 1/3 of their revenue to these platforms.
This all adds up to a very un-level playing field for developers and, ultimately, the players too. While devs bend over backwards and jump through hoops to launch their games on new devices and marketplaces, there's no guarantee of stability (or sanity). And players are locked into devices and platforms that they can't even play their favorite games on. Stadia's demise is yet another example of the power of these platform owners. But we think it could also be the start of a change to the status quo. One we plan to champion. And we're not alone, in-fact the EU is already working on legislation like The Digital Markets Act and Digital Services Act which will require many of these platforms to allow third-part services to operate within their walled gardens.
Welcome to a new age
Here at LootLocker we're focusing on connecting games across platforms rather than in walled gardens like iOS, Stadia or Steam. And in the future we're going to give you all the tools you need to sell your game directly to your audience, whatever platform it's on. We're even working to add the option to bypass marketplaces altogether if you want to.
Obviously we're not quite at this point yet. But in the meantime, our cross-platform and cross-device backend, and player authentication and management, support all major platforms – so you don't have to store player progression, cloud saves, or inventories in the device/platform the game is being played on. Instead we store it within LootLocker. But you own the data, giving you more control over how you make players' data accessible on other devices. And it's safe from platforms shutting down or making decisions that affect your game or playerbase.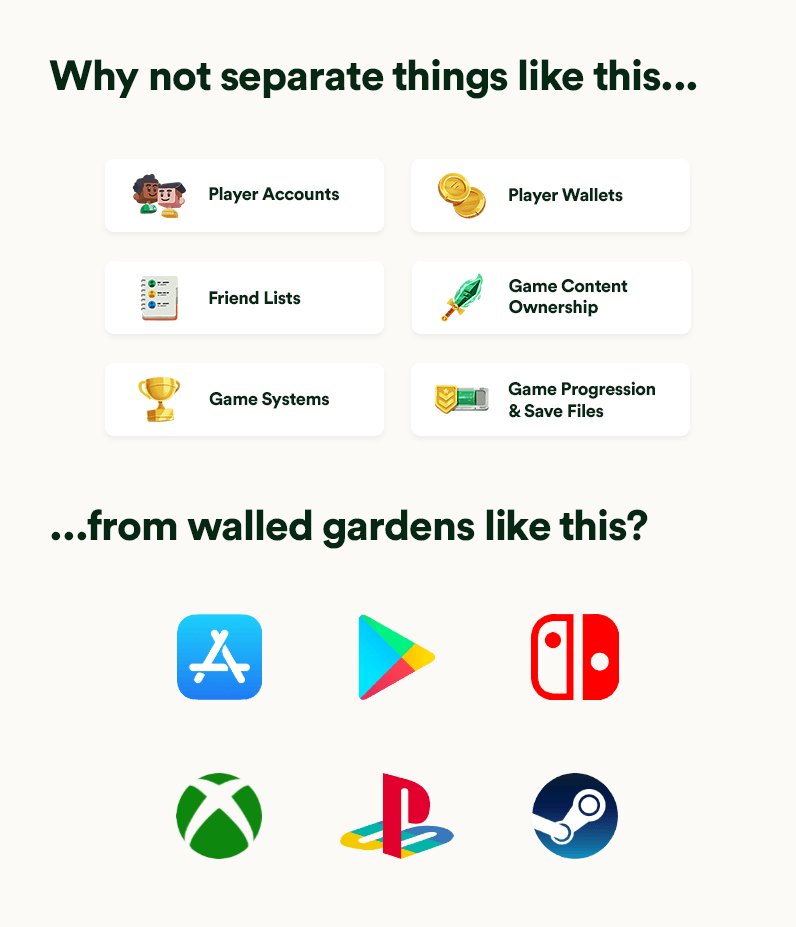 Taking it one step further
LootLocker already makes integrating third-party platforms like Steam, Xbox, PlayStation, iOS, and Android platforms really straightforward. And we've designed lots of its features specifically to avoid our devs having to lock themselves into one of these. For example…
Universal Player Authentication (coming soon) will let players connect all their platform accounts into one unified cross-platform profile.
Player Accounts lets developers store progression, inventories, currencies, key/values, and even game files in the cloud. And they're accessible from any device a player's logged into.
Leaderboards aren't locked to any single device, and all players can compete for high scores.
Platform integrations are all in one place – so managing different platforms is really easy, especially when it comes to DLC and purchasable in-game content.
In-game messaging lets you stay in touch with your player base across all platforms.
Player reporting means players can tell you about bullying or toxic players – and with Universal Player Authentication you'll be able to block people like this from your game across all devices.
We believe changes like these will contribute to making our industry better and fairer for developers of all sizes. And, most importantly, for the people we do all this for – the players.
Don't forget that LootLocker works straight out of the box for games of any size, genre, engine, or platform. If you'd like to know more about any of its features, feel free to get in touch.