If you've been following our blog for a while now you will remember late last year we (quietly) announced that we would be hosting a game jam together with Game Jolt, NBCUniversal, and G4 in 2022. Well, the time has come for that game jam to be officially announced!
Come Together
Welcome to Together Jam, a game jam to highlight the emerging game developers around the world. The game jam will run from June 17th until July 3rd, 2022 over on Game Jolt. What's so special about this jam is that we've worked closely with NBCUniversal to give everyone access to some of their classic characters from TV shows and movies. More on that below.

Oh, and did we mention that they're also offering a prize pool of $50,000 to the winners? That's right - the first place winner of the 2022 Together Jam will win $25,000 in addition to lots of other swag and bragging rights all across the internet. There will also be prizes for other categories, like Most Inclusive Game and Best Game Art.
G4, the gaming network will also be supporting the jam with exclusive coverage of behind-the-scenes content, interviews with participating teams, and be the ones to announce the winners exclusively on their gaming program Xplay.
This is a game jam like no other, and we can't wait to see what all the amazing teams come up with based on the backlot characters provided by NBCUniversal.
The Usual Suspects
So, which properties are available to use in this jam? Well, the good folks over at NBCUniversal have been very generous and are allowing all participants to build games using the following IPs:
Knight Rider
Xena: Warrior Princess
Airwolf
Tremors
Felix the Cat

What an awesome cast of characters, right? You've got Kit and the Hoff', the most badass warrior princess, a crime fighting supersonic helicopter, a horror cult classic, and the most famous cat in the world and his magic bag. These IPs will be the source of hundreds, if not thousands of great ideas, and we're excited to see all the creative games created by the community.
Mark Your Calendars
Alright, it's time to start preparing yourself for this super rare opportunity to build a game with this star studded cast of characters. Head over to Game Jolt and register to officially join the jam. Get yourself and your team ready for June 17th when Together Jam officially kicks off.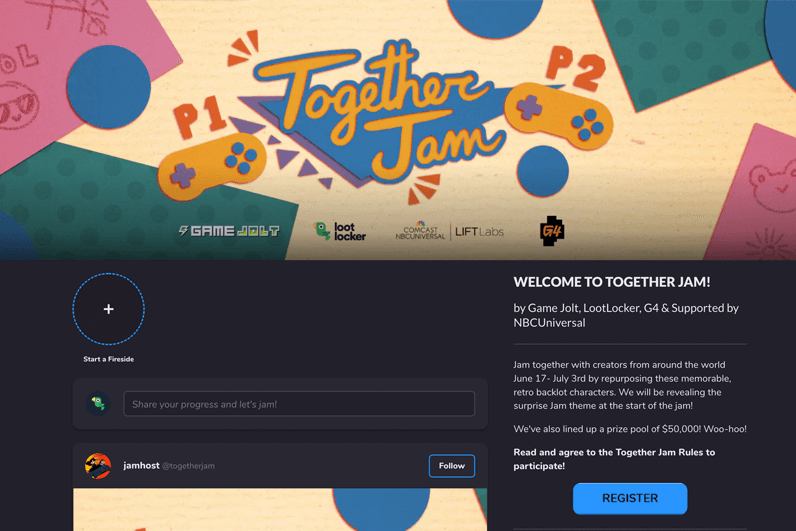 Good luck, and we'll see you at Together Jam!