Today we are launching two well-needed updates to the LootLocker platform: a visual (and slight functional) overhaul to the LootLocker Management Console and the LootLocker Documentation websites! We've been working on these updates since the beginning of the year and are excited to finally see them live. Here's what you can expect to find the next time you login or view our docs.
Management Console
The next time you login to the Management Console, you will immediately see the new changes thanks to our new Home Screen that pulls together a lot of information about your currently active game, some useful links, the latest LootLocker news, and provides quick access to your other games.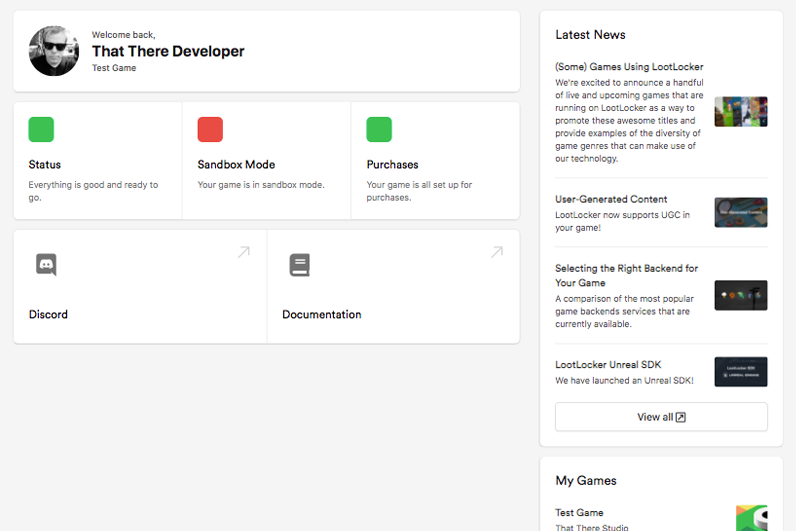 This new layout makes it easy for us to add more functionality to this page in the future. If you have any ideas for things you'd like to see here, please let us know!
You will also notice that navigating the LootLocker Management Console has changed thanks to the new side bar that consolidates everything into one place and organizes the platforms features a bit more logically. In the side bar, systems are now nested under five different categories: Content, Systems, Players, Metrics, and Settings.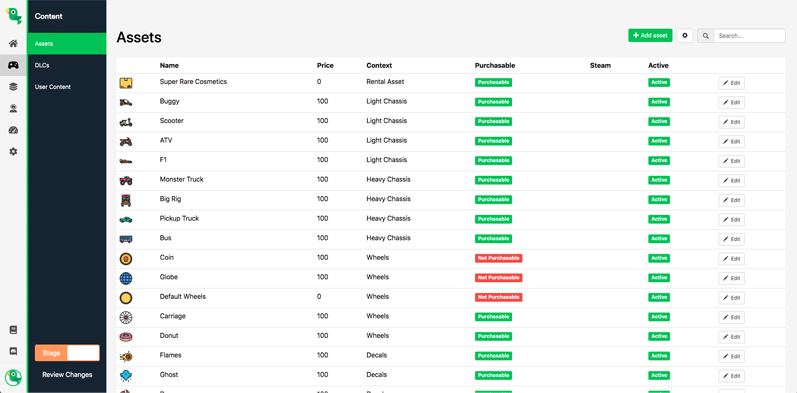 By selecting one of the icons the side bar will expand to display the systems within that category. This also displays the environment switcher, allowing you to switch between the Stage and Live Environments. You can find your profile and organization settings by clicking on your profile picture at the bottom of the side bar. Here you can also quickly switch between games or easily create a new game.
We hope you like the visual update and find it easier and quicker to use the console. If you have any thoughts or feedback, please don't hesitate to reach out via email or (even better) on our Discord.
Documentation
While we only launched our first documentation site less than a year ago, we were not happy with the overall functionality of it and wanted to upgrade to a managed service that makes documenting LootLocker easier - ultimately making your life easier too! After trying out a few different services, we finally settled on using GitBook to write and host our documentation.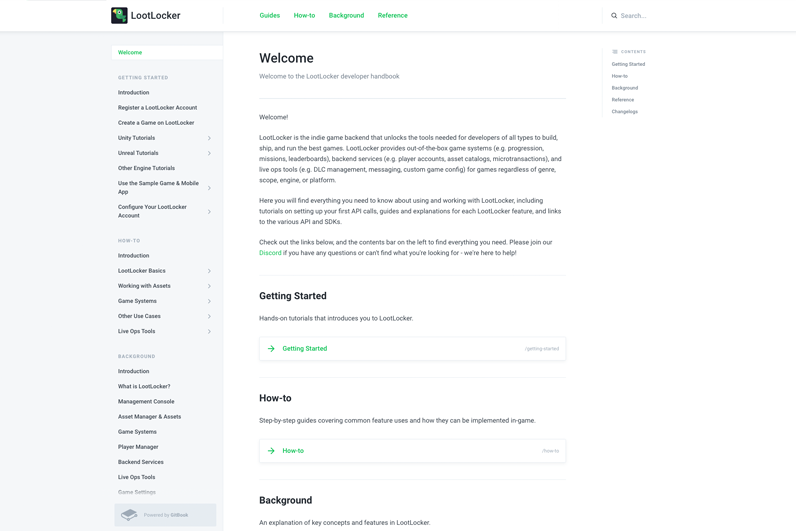 We also took some time to research the best way of actually documenting our service, and found this great framework by Divio. The Diátaxis Framework is a clear way of structuring documentation that takes into more consideration the different levels of understanding users need during their interaction with a product. It breaks up documentation into four areas: tutorials, how-to guides, technical references, and explanations making sure that users of any level of understanding know where they can find what they're looking for.
In addition to the site and framework, we've also written and updated new Getting Started guides for when working with Unity and Unreal. These guides walk you through every step of process from downloading the SDK, adding it to your game project, and finally making your first API calls. We hope this makes implementing LootLocker into your project even easier.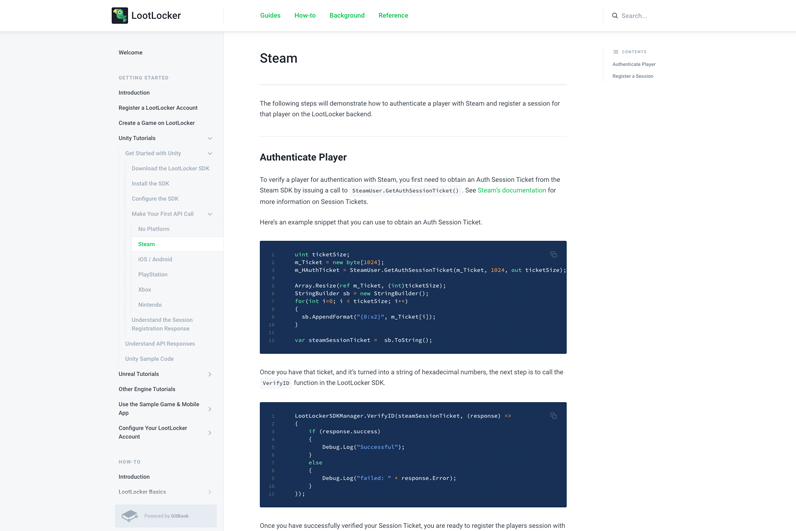 Finally, we have moved our reference documentation to a new domain, so please make sure you update your bookmarks. All reference documentation for the Game, Admin, and Server APIs can be found here:
As usual, we'd love to hear from you, so please don't hesitate to reach out via email or directly on our Discord.