Today we have updated LootLocker's pricing to better reflect the value that our platform adds to thousands of in-development and live games across PC, console, and mobile. We started building LootLocker with the vision of creating the next generation backend platform that serves as a hub for your game - both during development and when your game is live. Over the past few years we've added amazing new features like our User-Generated Content, Progression, and White Label Login systems to name a few. We've also made improvements across all APIs, SDKs and the web console to make sure LootLocker is not only powerful, but the most accessible backend platform as well.
It's now time to update our pricing to align it with our users needs. In short, here's what's different:
Our original standard offering that included 10,000 monthly active players for free has been renamed Plus and costs $83 / month but now also gives you access to our private ticketing system on Discord
We've created a new Hobby tier which is free up to 1,000 monthly active users and includes integrations with the most popular 1st party platforms
We're introducing the Pro plan that costs $333 / month and includes a dedicated success manager and full console integrations
We have increased our addiitonal per-MAU cost to $0.015 for all plans
New Plans
What hasn't changed is our commitment to keep our pricing fair, easy to understand, and protect you from any sudden surge of players who don't stick around to play your game - who we call Surge Players. Our new plans also do not limit your access to LootLocker's three platform feature groups: Game Systems, Content Management, and Player Management.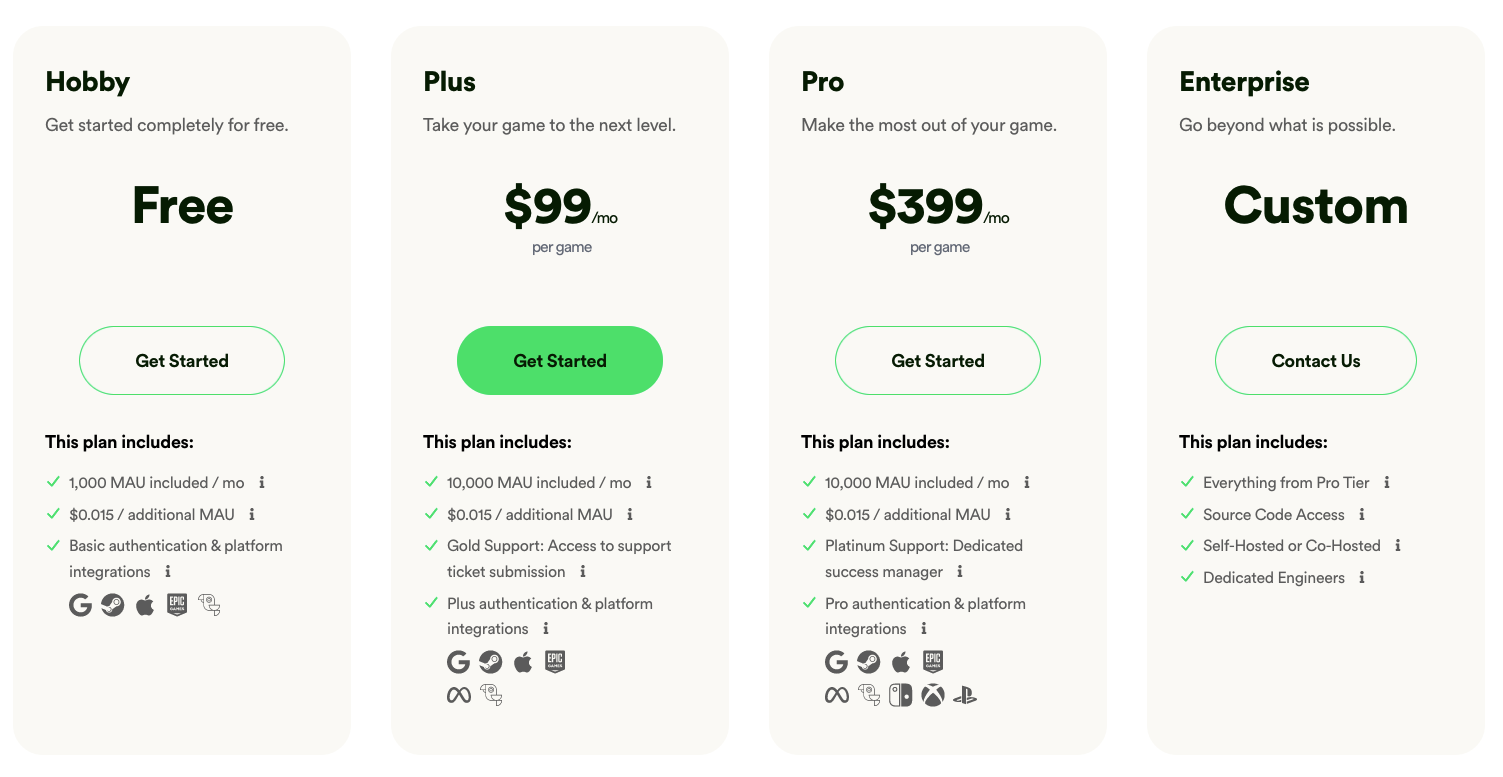 Our new pricing plans
There's a more detailed breakdown about each plan below or on our new pricing page.
Hobby Plan
When you create a new game you will automatically start on the Hobby plan (unless you choose differently). This plan lets you use LootLocker completely for free as long as your game stays below 1,000 monthly active users. Above that and you will need to pay only $0.015 per additional player (1.5 cents). In addition to Guest Login his plan includes access to the most popular 1st party authentications and integrations on PC and mobile:
Plus Plan
If you're looking for more support and integrations, and expect to have more than 1,000 monthly active players, we suggest upgrading to the Plus tier for as little as $83 per month. The Plus plan increases your free limit of monthly players to 10,000 and includes access to our private discord ticketing system. It includes the same platform integrations as the Hobby plan as well as our popular White Label Login authentication option.
Pro Plan
Launching on consoles? Then the Pro tier is designed for your game. Ontop of what the Plus plan already includes, our Pro plan games are each assigned a dedicated success manager there to make sure you get the support you need as soon as you need it - via Discord or email. The Pro plan also includes integrations with all 4 major consoles and VR platforms, all for $333 per month when paid annually:
Enterprise Plan
Finally, if you're looking to go beyond just building a game, you might want to select the Enterprise plan by reaching out to us directly. This plan includes the ability to access LootLocker's source code as well as self-host or co-host the backend so that you can work directly in our code base in your own environment, or host LootLocker with a different cloud provider. We'll be there with our engineers along the way to make sure getting started is as smooth as possible.
Web Console Dashboard
As part of this update, we have also made it easier to view your monthly usage and add your credit card all from within the web console - no more invoices! Next time you login you will be notice the updated dashboard where your plan and monthly usage are clearly displayed. If you haven't selected a plan you'll see a link to do so (and add your credit card).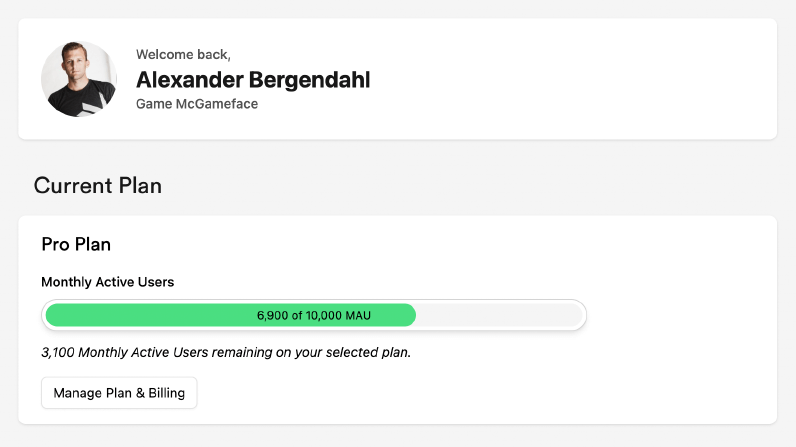 The new web console dashboard showing your monthly usage
As your game grows, the dashboard will indicate how far you are from reaching the free-MAU limit and your estimated billing for the month. We've also included an updated pricing calculator on our new pricing page.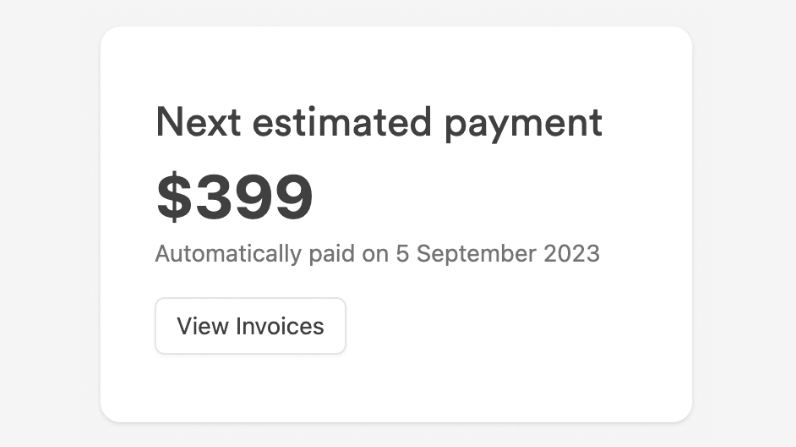 Estimated billing each month
Existing Users
So, you're probably wondering how our new pricing will affect your game that has been already using LootLocker. Great news - we're offering existing users the opportunity to have legacy pricing applied to your games. This means nothing will change at this time - you will still have access to same features, integrations, and authentication methods as you have in the past, regardless of the plan you're on.
Furthermore, we will upgrade your game's MAU limit to the original 10,000 MAU. If you want to have legacy pricing applied to your game and retain the original set of authentication options, please reach out to us at billing@lootlocker.com.