Chirag Chopra is the founder of Lucid Labs – the only Indian game studio to have a game published on Apple Arcade. His new game, Bloom, is a puzzle game with an experiential story that "doesn't make any sense".
A classic startup story
Chirag Chopra is 31 years old, and runs Lucid Labs from New Delhi, India. He has a Master's Degree in Game Design and eight years of development experience.
The creation of Lucid Labs is a story of passion and determination. Chirag and a few classmates had created a game called ROTO for a 24-hour game jam. It proved promising enough that he and his team wanted to develop it into a full game.
What followed was a six-month period of juggling studies and development. Chirag and his team worked through their weekends, from hostel rooms and classrooms, to make ROTO a polished final product – an 'easy to learn, hard to master' puzzle game with a charming, minimalist art style. ROTO got attention. It earned Lucid Labs a publishing deal and, after another three months of game refinement, ROTO was featured on the App Store's 'Best New Games' list.
After ROTO came Stay, Mum another puzzle game for iOS that explores the relationship between a boy and his mother. Expanding their narrative appetite was a new challenge for Chirag and his team, but it didn't go unnoticed. Stay, Mum won the coveted Editors' Choice award on the Apple App Store.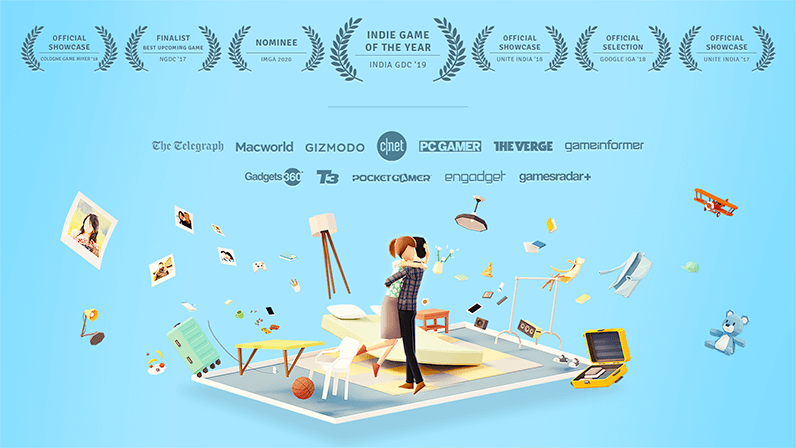 Lucid Labs' 3rd game Possessions was critically acclaimed
A few years (and games) later Lucid Labs returned with Possessions, a 3d puzzle game that plays with perspective and spatial awareness in cute dioramas of living rooms, kitchens, and gardens. With several games under their belt, this time they knew exactly what they needed to do to aim for success - and it worked. By the time it launched, Possessions had raked up a dozen awards and nominations including winning Indie Game of the Year at India GDC.
Now, years later, Chirag is releasing Lucid Labs' fourth game: Bloom. Download it now on Google Play and the iOS App Store.
He's doing it with a different team though. Because that's how Chirag works – he collaborates with a whole new team of people (often from different countries) on every project he starts.
The toil of turning ideas into finished products
Chirag clearly has an endlessly creative mind. He says his favourite thing about game development is "building surreal experiences while bringing joy to the world". He says playing Sony's 2012 hit Journey prompted him to rethink his vision and focus on how games can be treated differently and made into experiences.
But this vision and creativity came with a problem that hinders many creatives – finishing what you start. "We've worked on almost 20 ideas now," Chirag says, "but we've only managed to release three games so far. Many of those ideas weren't scalable anyway, but sticking with your vision and releasing it to the world is harder than it sounds."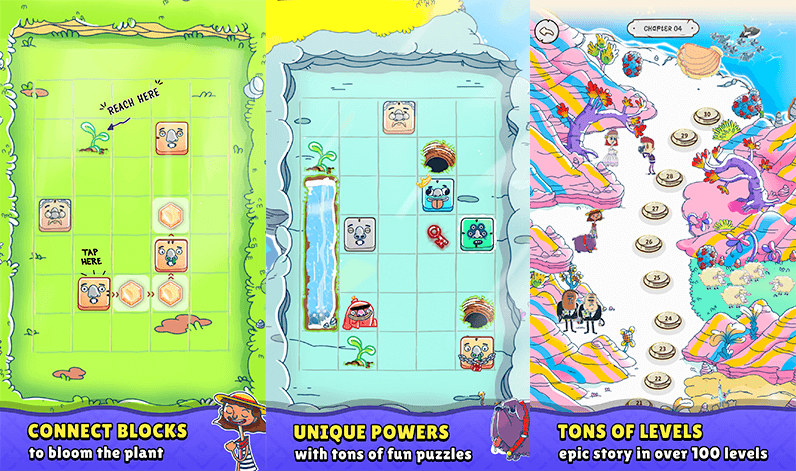 Bloom is available now on iOS and Android
With Bloom, Chirag has stuck to his vision for a year and now has a finished game. Bloom is a chain-reaction puzzle game, based around a character who loves berries. It promises a "diverse cast of witty characters, orchestrating a narrative that doesn't make any sense". Intriguing, right?
When we asked Chirag which aspect of Bloom he's most proud of, he told us: "Apart from creating an intuitive puzzle game with vibrant visuals, we've managed to implement an in-game level maker and hub where players can create and play public levels."
A game infused with LootLocker
For Bloom, Lucid Labs used LootLocker for guest logins, player accounts, leaderboards and cross-platform saves. LootLocker also powers Bloom's ambitious in-game level maker that allows players to create and share their own levels, and rate other player's creations too. According to Chirag, game features like this simply wouldn't have been possible without LootLocker making the complex simple.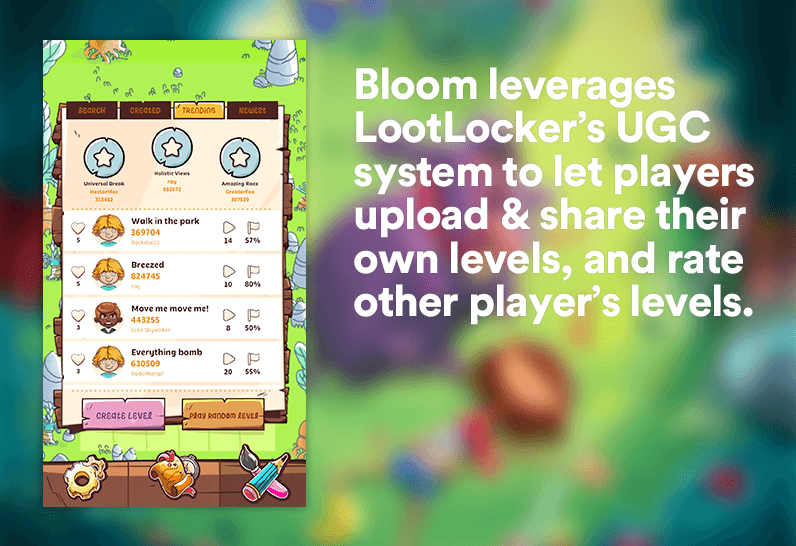 Bloom takes advantage of LootLocker's plug-and-play UGC system
Chirag says the pricing and ease of use were key factors in his decision to use LootLocker. "The service is designed to address the problems of indies," he told us, "and the features are quite intuitive to implement. The support is phenomenal too – the team helped us cross many bridges."
"In future, we're considering using other LootLocker features, like: friends, gifting, reporting, messages, drop tables and progression."
Turn your ideas into reality with LootLocker
'Finishing what you start' is a common hurdle for indie developers. When the excitement of a new journey wanes, it can be hard to keep your motivation up through grinding out endless boring tasks.
LootLocker makes those tasks quick and easy, so you can spend more time on the tasks that really get your creative juices flowing. It works straight out of the box, no matter your game's size, genre, engine or platform. And the 'phenomenal' support Chirag mentions usually happens through our Discord server, where we're always keen to help.
So get in touch and we'll show you how we can help you make your ideas a reality.