Earlier this week we released the first version of our new Admin Extension for our Unity SDK. Our vision with this extension is to enable an even easier workflow by giving you a tool fully integrated with your game engine of choice (that's right, an Unreal Admin Extension is also planned!) At the current stage of the Unity Admin Extension's development, you can sign in with your LootLocker credentials to create, manage, and apply API Keys without having to ever leave the engine editor.
How to use it
After downloading and integrating the Unity SDK into your project (Unity v2021.3 and later), you will see the extension window when your project loads. After logging in with your LootLocker account you'll be able to select your organization and game. From that point you can view your game's API Keys that have been previously created via the web console. You can create new API Keys directly in the editor or select the key you want to use and click the Apply button to automatically add it to your game config. Voila!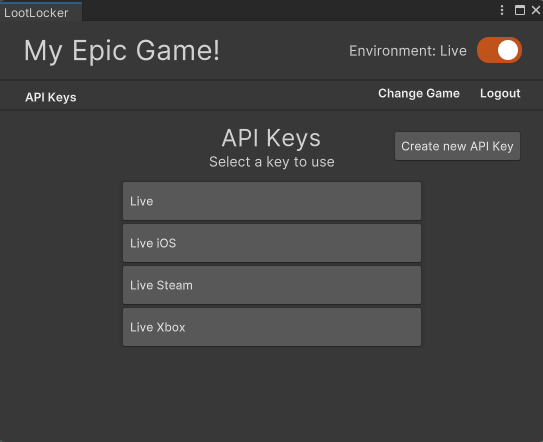 What the future holds
As we grow LootLocker's features, so too will the Admin Extension grow. We will be adding support for as many features as possible, like Leaderboards, Player Files, and Inventories. We also want to include some engine-specific functions such as creating addressable assets based on Unity's Addressable Asset System will provide ways to create DLC that aren't included within the build, making live game updates super easy.
If you have any questions or suggestions, don't be shy - let us know through email or on our Discord server.