The third place prize at Together Jam went to Knight Rider: Arsenal – a collaboration between two different dev teams, with members from around the world. In the final part of our three-part blog series, we get to know the jammers of Dynamite Stew and Team Melon.
High-quality indie games, and lots of 'em
So far, we've written about two games from Together Jam – our winners, Xena: Trial of the Gods, and our runners up, Felix the Cat and his Wonderful Clones. So you probably already know the story of the jam itself. But if not, here's how it went down:
We teamed up with Game Jolt and G4 to host Together Jam, with some amazing support by NBCUniversal. We set our contestants the challenge of making games based on one (or more) of five film and TV classics from the NBCUniversal library of IPs:
Knight Rider
Xena: Warrior Princess
Airwolf
Tremors
Felix the Cat

Soon after we announced the jam, we quickly realized two things: we'd have lots of entries (it turned out to be nearly 100, from developers in 24 different countries), and the standard would be sky high.
Our competitors had one other challenge to face – we set them a theme of 'power in numbers'. And no one exemplified this theme better than the creators of the game that would take third place, Knight Rider: Arsenal.
Two teams, two IPs, three game modes
Dynamite Stew and Team Melon are a truly international team of 12 members. Aaron Shaw, Dynamite Stew's director and creative lead, said: "We're a small international collaboration between two teams. It's a bunch of guys hanging out in virtual space, soaking up bandwidth in VC. Most of us are in the United States, but we're pretty global, with members from Algeria, India, Germany, and Canada too."
The collaboration between the two teams came about just as you might expect – they played each other's games. That's how Aaron first started collaborating with Team Melon's director and lead programmer, Danial Jumagaliyev.
"Dynamite Stew assembled last year," says Aaron, "to take on competitions with jam experts in a small online community. Over the past year, we've won three Game Jolt jams. Team Melon formed a year before that, with a similar background."
"So our networks all began around the same time. And we all loosely knew each other before Together Jam started. We have a range of people who are brand new to game development and people who have a decade of experience."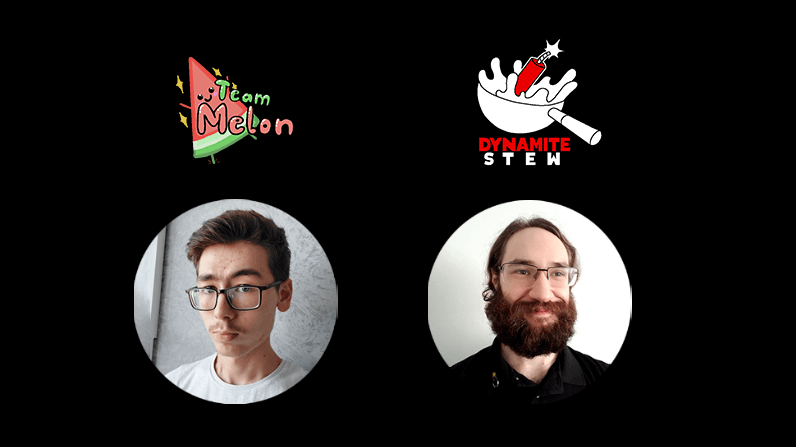 So as it turns out, Dynamite Stew and Team Melon were embodying the theme of 'power in numbers' before they even started making their game. But that didn't stop them going out of their way to find more creative combinations. Their game, Knight Rider: Arsenal, is a classic arcade-style driving and shooting (and flying) game that combines two IPs – Knight Rider and Airwolf. And its gameplay is a mix of three different styles – side scrolling, top-down, and third person.
Keeping several different concepts in the same lane
With so many elements to bring together, Knight Rider: Arsenal could've easily been a scrambled mess of conflicting ideas. But they all dovetailed very nicely. The judges praised it for being very polished – especially with its music and cutscenes. And the teams at Dynamite Stew and Team Melon put in plenty of prep to make sure their disparate concepts would form a unified whole.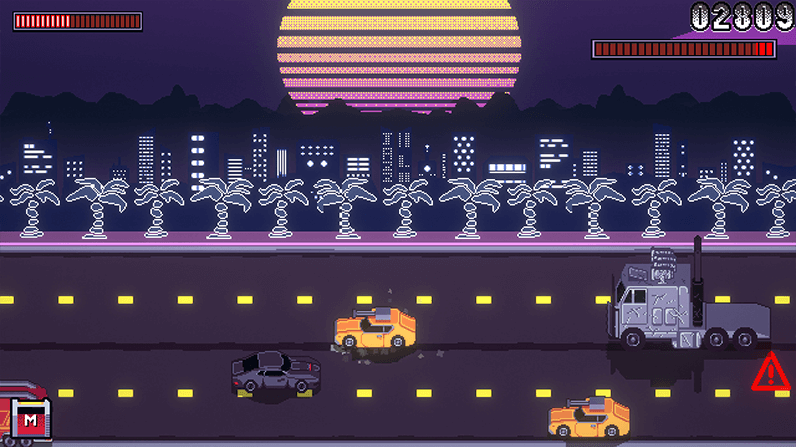 "We spent about two days just choosing what IPs to use," Aaron told us. "At first, we watched a bunch of videos of every IP on YouTube to learn as much as possible. We were also cautious of what other devs would consider – IPs that might be used most in the competition and which would work together best."
"We ended up with Knight Rider and Airwolf because the two shows had similar themes of machines that we felt could make for a game that played like a crossover. And even then, we spent about a week researching just those two IPs to make that approach as canonical as possible."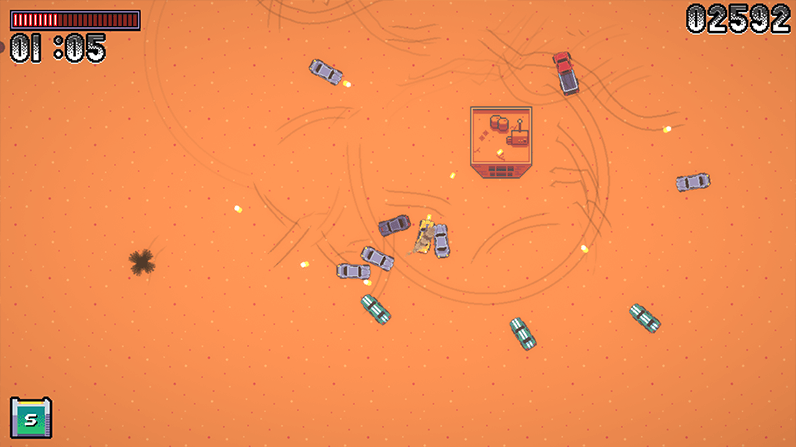 "Deciding the application of the jam's theme, 'power in numbers', was complex with the use of IPs. Initially, we came up with a mechanic that sounded good on paper, but didn't work in practice. We brainstormed until the idea of our game consisted of three different perspective modes and genres and had them all connected to be a part of an overarching crossover story between Knight Rider and Airwolf."
Dynamite Stew and Team Melon used LootLocker for their game's leaderboards, collectibles and triggers.
"Getting LootLocker working was quick and easy," says Dan. "It has pretty solid documentation that explains the features by describing how to add them into your game – along with ready-to-use code samples. And tutorials on YouTube helped us to integrate some of LootLocker's features."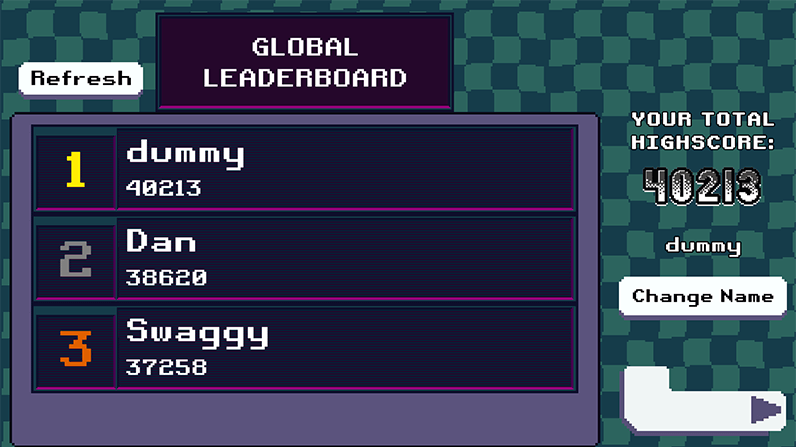 "We'll definitely use it again in future projects. It allows for the fast implementation of handy online features. It could be an excellent plugin for someone interested in learning how to create games. We have some teammates already using it and winning other jams, too."
Entering a game jam? Get LootLocker for free
Game jams are all about getting creative and putting your ideas into practice quickly. It's easy to get bogged down in the coding for things like leaderboards, assets, missions, notifications and leveling systems. LootLocker exists to make these things quick and easy – so you can focus on the creative bits that'll bring your game to life.
And if you set out to build a bigger, more complex game, LootLocker can scale with you. It works straight out of the box for games of any size, genre, engine or platform.
If there's anything you want to know that our website can't tell you, feel free to get in touch.